About Vellka
Hello, Guest
Vellka is about connecting people with the best local restaurants. Whether its finding a new restaurant or trying out an established one, Vellka makes it easy for you to explore and order food online from local favorites. Through our innovative and intuitive technology, Vellka offers the most convenient way to find local restaurants, restaurant menus, restaurant deals and order food online from neighborhood restaurants.
Balu Joseph, Founder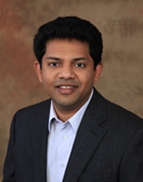 Balu launched Vellka in 2010 as a startup from his garage in Cary, NC. Initially, couple of restaurants tried out the online ordering service and customers really liked it. Through his vision and leadership and active support and participation from several customers and restaurants, Vellka has since grown to its current state.
Balu Joseph is an entrepreneur and engineer. He has an M.S. in Electrical Engineering from North Carolina State University and a B.Tech. in Electronics & Communication Engineering from Regional Engineering College, Calicut. He has held various roles at Cadence Design Systems, Agere Systems, IBM and Wipro Technologies. He is the author of the book High-Speed CMOS Transceiver: Principles, Design and Implementation using Multi-level (4-PAM) Signaling.